Product Detail
Product Tags
Buyer Reviews
make sure you really feel free to get hold of us. We're searching for Sizing Agent,Paper Sizing Agent,Akd Sizing Agent. your coming mail will likely be really appreciated.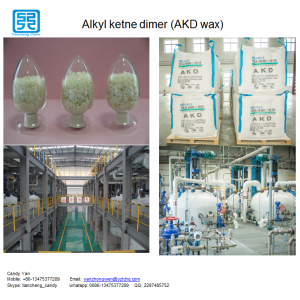 Alkyl ketene dimer (AKD wax) manufacturer with 20 years experiences and the largest and best manufacturer of cationic reagent (3-Chloro-2-hydroxypropyltrimethyl ammonium chloride/quat 188/CHPTAC), raw material for producing cationic starch in China. Other featured products:General AKD emulsifier 25%, Quat 188 69%,Polymer emulsifier 40%, PolyDADMAC 40%,Wet strenght agent 12.5%/25%, Styrene Acrylic Copolymer, Fixing agent 50%, Poly Aluminium Chloride, Sodium Gluconate Oxidized starch,ect.
1.CAS NO.:144245-85-2
2.High content,can reach 90%
3.Best stable form-pellets
4.Perfect color,highest emulsion
1. Introduction
This ADK wax is a very ideal neutral paper sizing agent, it can be used as pulp sizing and surface sizing to make the paper have excellent water resistance. When using this ADK wax, it should be heated to melt, and then mixed with the starch emulsifying agent and protective agent, until the agent emulsify into stable latex
2. Specifications
| | |
| --- | --- |
| Appearance | pale yellow waxy solid & flake & block |
| Purity | ≥90% |
| Melting point | 48-50°C |
| Acid value (mgKOH/g) | 2.0 mgKOH/g |
| FFA free fatty acid | ≤2.0% |
| Iodine value | 45- 48.5 giz/100g |
| Carbon content | C16: 40% C18: 60% |
4. packaging
25KG/ bag or 500kg/ bag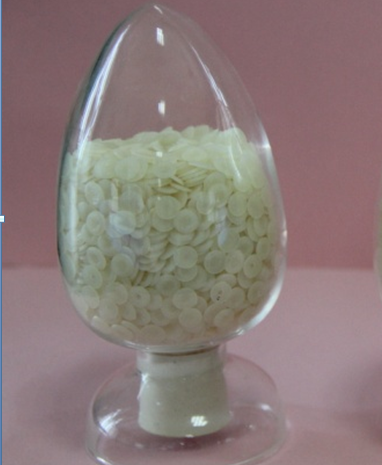 Contact Info.
Candy Yan
Plants:
Shandong Tiancheng Chemical Co., Ltd.
Shandong TianchengWanfeng Chemical Technology Co., Ltd.
Sales office:
Huizhong International Industry Co., Limited
Plants add: No.66 West of Beizhan Road, Yanzhou, Shandong, China.
Tel&Fax : + 86-537-3414528 Mobile: +86-13475377289
Email: yanzhongwenATyztchg.com
Skype: tiancheng_candy whatapp: 0086-13475377289
QQ: 2297485752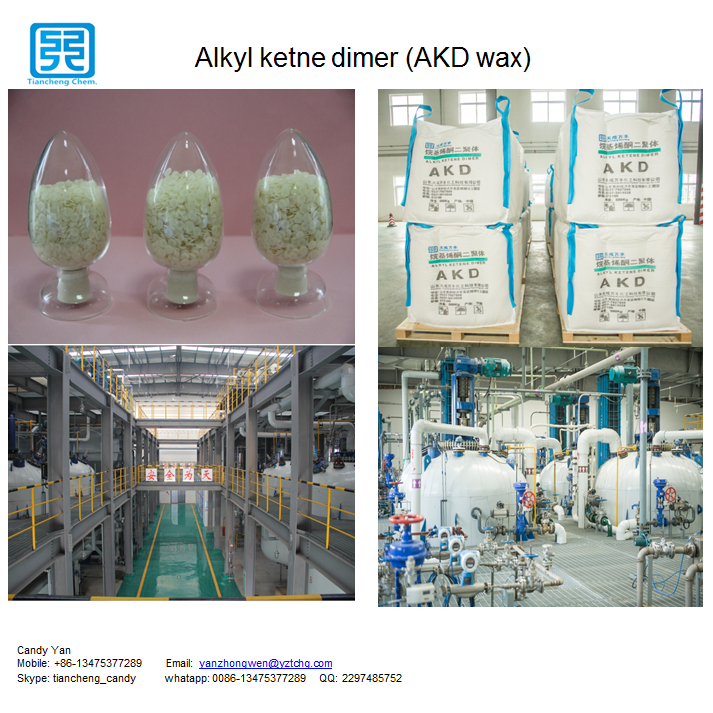 Product List

Paper Chemicals

Product name

Chemical name (Main ingredients *)

CAS No.

Surface sizing agent 25% 30%

Styrene acrylic copolymer

25085-34-1

AKD sizing agent 15% 20%

Alkyl ketene dimer*

144245-85-2

Dry strength agent(DSR)15%, 20%

Polyacrylamide

9003-05-8

Wet strength agent PAE 12.5%

Polyamide epichlorohydrin resin

68583-79-9

Paper fixative(Fixing agent) 50%

Dicyandiamide, ammonium chloride, formaldehyde condensate

55295-98-2

Quat 188 cationic reagent 65%/69%

3-chloro-2-hydroxypropyltrimethyl ammonium chloride

3327-22-8

AKD series chemicals

Product name

Chemical name (Main ingredients *)

CAS No.

AKD wax 1840 1865 1895

Alkyl ketene dimer

144245-85-2

AKD emulsifier 25%

Cationic starch*

56780-58-6

AKD dispersant

Dispersant N*

36290-04-7

High polymer emulsifier 40%

Poly Dimethyl Diallyl Ammonium Chloride*

26062-79-3

AKD stabilizer

Zirconium Oxychloride*

7699-43-6

AKD special starch

Oxidized starch*

65996-62-5

Water treatment chemicals

Product name

Chemical name

CAS No.

DADMAC 60% 65%

Diallyldimethylammonium chloride

7398-69-8

PolyDADMAC 20% 40% 88%

Poly Dimethyl Diallyl Ammonium Chloride

26062-79-3

PAC 28% 30%

Poly aluminium chloride

1327-41-9

Personal care and skin care

Product name

Chemical name

CAS No.

HA powder/1% solution

Sodium hyaluronate

9067-32-7

Concrete additives

Product name

Chemical name

CAS No.

Nano silica

Silicon Dioxide

7631-86-9

Sodium Gluconate 98% 99%

Sodium Gluconate

527-07-1

Food additives

Product name

Chemical name

CAS No.

Xanthan gum

Xanthan gum

11138-66-2

L-Ascorbic Acid

L-Ascorbic Acid

50-81-7

Maltodextrin de 18-20

Maltodextrin

9050-36-6

Glucose Syrup

Glucose Syrup

8029-43-4

Erythritol

Erythritol

149-32-6

Non-dairy creamer

Non-dairy creamer

7758-11-4

Lysine

Lysine

56-87-1

Corn gluten

Corn gluten

66071-96-3

Activated carbon

Activated carbon

64365-11-3

Maltitol

Maltitol

585-88-6

Sorbitol 70%

Sorbitol

50-70-4

Dextrose

Dextrose

50-99-7

Citric Acid

Citric Acid

77-92-9

Other chemicals

Product name

Chemical name

CAS No.

Calcium chloride 74% 77% 94%

Calcium chloride

10043-52-4

Epichlorohydrin

Epichlorohydrin

106-89-8

Adipic acid

Adipic acid

124-04-9

PVA

Poly vinyl alcohol

9002-89-5

Pentaerythritol

Pentaerythritol

115-77-5

Anatase and Rutile Titanium dioxide

Titanium dioxide

13463-67-7
Usually customer-oriented, and it's our ultimate focus on to be not only by far the most reliable, trustable and honest provider, but also the partner for our customers for Alkyl Ketene Dimer used for AKD Emulsion in Paper industry with CAS NO.144245-85-2. The product will supply to all over the world, such as: Gibraltar,Iran (Islamic Republic of),Belarus. In order to meet our market demands we now have paied more attention to the quality of our products and solutions and services. Now we can meet customers' special requirements for special designs. We persistently develop our enterprise spirit "quality lives the enterprise credit assures cooperation and keep the motto in our minds: customers first.