Shandong Tiancheng Chemical Co., Ltd was established in 1999, located in Yanzhou district ,Jining city, Shandong , China ,a high –tech enterprise on business of research, development, produce, trade ,etc. The main products cover paper chemicals, Water Treatment Chemical etc. We produce and export Cationic Reagent , Alkyl Ketene Dimer, AKD Neutral sizing agent , Surface sizing agent , Wet Strength Agent , Dry Strength Agent , Retention aid , Lubricant , AKD Emulsifier ,Polymer emulsifier , Softening agent , Zirconium Oxychloride , Curing Agent , Polyacrylamide, Calcium Chloride, Aluminum Chlorohydrate. The products are not only sold through the country , but also exported to North America , Europe, Japan, Korea, Southeast Asia and other countries or regions . The quantity , quality and technology of paper chemicals leads top in the world.
AKD Wax introduction
Chemical name: Alkyl Ketene Dimer
Alias: AKD wax
AKD powder is also called AKD wax. Chemical name is Alkyl ketene dimer. CAS registration number is 144245-85-2. Appearance is pale yellow flake or granular solid. It is produced by fatty acid (C≥16), via acylation and dehydrochlorination to become AKD wax. AKD wax is mainly used for papermaking neutral sizing agent. R or R' in the above structural formula is the alkyl group, and a series of alkyl ketene dimers can be obtained through modifying different alkyl groups. Octodecane and cetane are applicable to the papermaking neutral sizing agent.
Alkyl ketene dimer is a white-to-yellow solid with the melting point of about 47 ~ 51 ℃ , which can be soluble in ethyl alcohol, benzene, chloroform and other organic solvents. The reactive group of alkyl ketene dimer-ketone group has high activity
and makes esterification reaction with the hydroxyl in cellulose.

Product Application
AKD wax can be made into AKD emulsion applied as in sizing agent in the papermaking production.

AKD wax is emulsified by the cationic emulsifier, and melted AKD wax and emulsifier undergo high-speed shearing and high pressure homogenization to form the liquid AKD sizing agent after cooled.
In the papermaking process, application of AKD sizing agent gives the fluid resistance to paper and paperboard to prevent or delay the penetration and diffusion of some liquids on paper fibers, thus satisfying people's requirements on the processing and
use of paper products.
AKD contains hydrophobic group and hydrophilic group, which are well distributed in the sizing process to transfer to locate the process of bonding with cellulose. AKD emulsion particles stay between negatively charged paper fibers since they carry with
positive charge by virtue of cationic starch and PAM and other retention agents; In the pressing and drying process of the paper machine, these globular AKD particles are easily expanded and distributed on the surface of fibers due to the lower melting point to form a homogeneous cover film; When paper is dried and stored for a period, the active group (lactone ring) on AKD molecule makes the esterification reaction with the hydroxyl on fibers under certain conditions to be binding on fibers in the form of fixed covalent bonds. Hydrophobic long-chain alkyls transfer to the paper surface in order to give the penetration resistance to paper.
Development History
Established in 1999, Tiancheng Chemical Co., Ltd. has a history of about twenty years till now.
Since 2002, the company has been devoting itself to the research and production of papermaking chemicals; Further, the company built supporting industrial bases one after another in Jiangsu Province (Changzhou, Tongshan and Xinyi) and
Shandong Province (Tai'an and Dezhou).
In 2008, the output and quality of Tiancheng's AKD wax ranked the top in the world.
In 2009, ventured with Finland Kemira Corporation, Kemira Tiancheng Chemical (Yanzhou) Co., Ltd. was established.
In 2012, Shandong Tiancheng Wanfeng Chemical Technology Co., Ltd. was founded, and then the fine chemical industrial park covering an area of 2,000,000 square meters was started, which got the phosgene, chlor-alkali and epoxy chloropropane
production permits, etc.
In June 2016, Tiancheng Wangfeng officially put AKD wax project with the annual output of 40,000 ton into production. Tiancheng Chemical is devoted to building a first-class fine chemical industrial park internationally with the integration of
intelligence, economy and environmental protection.
Product Specification
Chemical name

Alkyl Ketene Dimer

Alias

AKD WAX

Mol. Wt.

495.6~532.92

CAS No.

144245-85-2

Structure

Alkyl Ketene Dimer %

1840

≥88

1865

≥88

Melting point

1840

47.4-48.9°C

1865

47.0~51.0°C

Appearance

Pale yellow ,Grain

Toluene content:/ppm

≤100

Idine value (I2), g/100g

1840

≥ 45

Acid value mg/KOH/g

≤5

1865

≥ 44

Application

As a kind of initial powder of neutral sizing agent, is used in making neutral sizing agent latex of paper pulp.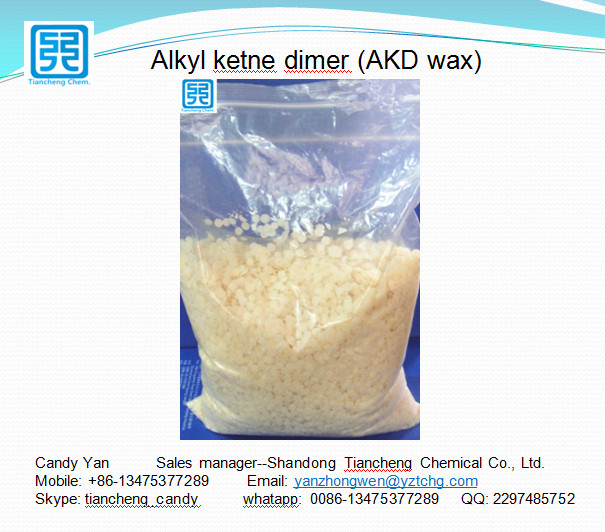 Looking for ideal Alkyl Ketene Dimer Manufacturer & supplier ? We have a wide selection at great prices to help you get creative. All the AKD Wax are quality guaranteed. We are China Origin Factory of Alkyl Ketene Dimer Wax. If you have any question, please feel free to contact us.
Product Categories : Paper Making Auxiliary Series > AKD Wax