Calcium Chloride is an inorganic salt, which exists as solid or liquid. Solid calcium chloride is a white, crystal substance in the form of flake, granule, pellet or powder. With different crystallized water contents, it can be dihydrate or anhydrous. Liquid calcium chloride is a colorless, clear solution. As calcium chloride has such properties as quick dissolving, exothermic ability, attracting moisture from the air and surroundings, dissolving at very low temperature.
Calcium Chloride Application
Mainly used for airport, highway ice melting, coal mine dust removal and anti-freezing.
PRODUCT DESCRIPTION



CaCl2 flake specification

Assay%: 74 min
NaCl%: 4.5 max
MgCl2%: 0.5% max
Non-soluable in water%: 0.2 max
PH: 8-10






CaCl2 granule specification




Assay% 72-74 min
NaCl% 3 max
MgCl2% 0.5% max
Non-soluable in water% 0.2 max
PH 8-10






CAS No. 10043-52-4
Packaging 25kg/bag
Shelf life 24 months









Company Profile
Established in 1999, located in Yanzhou Chemical Industrial Park of Economic Development Zone, Jining, Shandong, China, Shandong Tiancheng Chemical Co., Ltd. is a high-tech enterprise inclusive of research, development, production(manufacturing), trading, etc. with registered capital of RMB60 million, total assets of RMB350 million and 360 staff.
We are mainly engaged in chemical industry.
History


•1999, Tiancheng Chemical established;

• 2002, set up supporting bases in Changzhou, Xinyi, Tongshan, Jiangsu province and Taian, Dezhou, Shandong province;

• 2008, quality and quantity of paper chemicals and AKD Wax rank top in the world; the market share of 1881 (3-Chloro-2-Hydroxypropyltrimethyl Ammonium Chloride) in China is over 70%;

• 2009, set up joint venture with Kemira Finland;(exit the JV in June 2011);

• 2010, established "Yihai Tiancheng Chemical Industry Co., Ltd" (because of strategy adjustment, Yihai decided to postpone since May, 2012);

• Supported by local district committee and government, Tiancheng determined to reposition and set up Shandong Tiancheng Wanfeng Chemical Technology Co., Ltd. together with Shandong Juyuan Thermal Station, Jining Mingyuan Commercial Co., Ltd. in Nov. 2012 when it accelerated to construct the project with its own advantages and sought the professional and well-known brand in the world to cooperate, aiming to become the paragon of modern fine chemical industry.

Collaboration

Along with quality better and better and enterprise's reputation higher and higher, we attracted more and more large companies both at home and abroad. We are visited by many famous chemical companies like Hercules USA, Sweden Eka, India Blue Haze and so on. We have successfully cooperated with companies like International Paper, APP, Kemira Finland, Mitsui Japan, Arakawa Chemical Industries Japan, Chuo-chem Japan, Seiko PMC Japan, Showa Denko Japan, Roquette and so on.

We will try our best to build a top level fine chemical park and make the chemical industry stronger and stronger!

If you are interested in our products feel free to let me know. Looking forward to your reply and our cooperation in near future! Welcome to our company for a visit!
Business Partners, and Tiancheng's one corner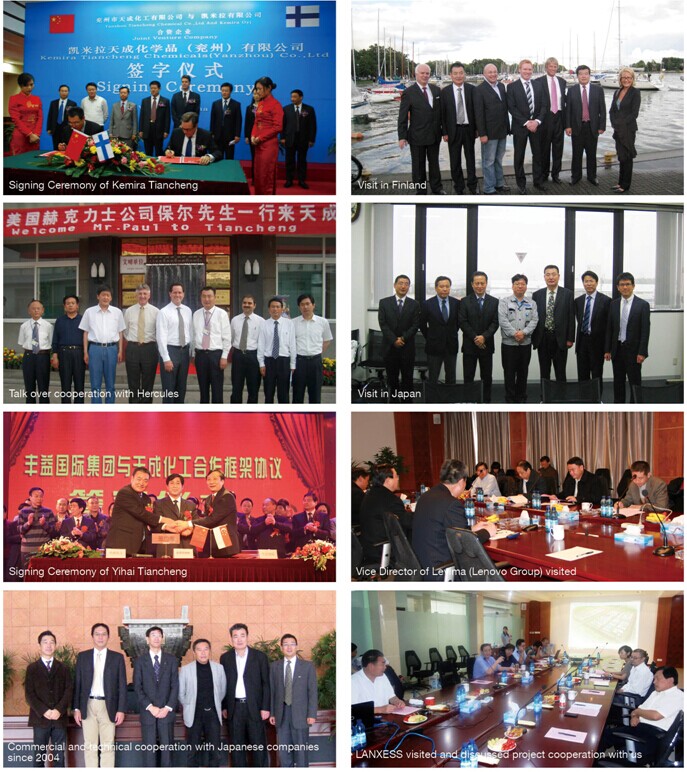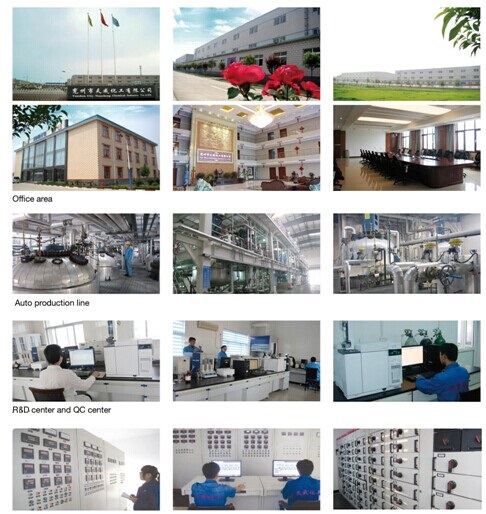 Product List
Paper Chemicals

Product name

Chemical name (Main ingredients *)

CAS No.

Surface sizing agent 25% 30%

Styrene Acrylic Copolymer

25085-34-1

AKD sizing agent 15% 20%

144245-85-2

Dry Strength Agent ( DSR )15%, 20%

Polyacrylamide

9003-05-8

Wet Strength Agent PAE 12.5%

Polyamide Epichlorohydrin Resin

68583-79-9

Paper Fixative ( Fixing Agent ) 50%

Dicyandiamide, ammonium chloride, formaldehyde condensate

55295-98-2

Quat 188 Cationic Reagent 65%/69%

3327-22-8

AKD series chemicals

Product name

Chemical name (Main ingredients *)

CAS No.

AKD wax 1840 1865 1895

Alkyl ketene dimer

144245-85-2

AKD Emulsifier 25%

Cationic starch*

56780-58-6

AKD Dispersant

Dispersant N *

36290-04-7

High Polymer Emulsifier 40%

Poly Dimethyl Diallyl Ammonium Chloride*

26062-79-3

AKD stabilizer

Zirconium Oxychloride *

7699-43-6

Oxidized Starch *

65996-62-5

Water Treatment Chemicals

Product name

Chemical name

CAS No.

DADMAC 60% 65%

Diallyldimethylammonium chloride

7398-69-8

PolyDADMAC 20% 40% 88%

Poly Dimethyl Diallyl Ammonium Chloride

26062-79-3

PAC 28% 30%

Poly Aluminium Chloride

1327-41-9

Personal care and skin care

Product name

Chemical name

CAS No.

HA powder/1% solution

Sodium Hyaluronate

9067-32-7

Concrete additives

Product name

Chemical name

CAS No.

Nano Silica

Silicon Dioxide

7631-86-9

Sodium Gluconate 98% 99%

Sodium Gluconate

527-07-1

Food Additives

Product name

Chemical name

CAS No.

Xanthan Gum

Xanthan gum

11138-66-2

L-Ascorbic Acid

50-81-7

Maltodextrin de 18-20

Maltodextrin

9050-36-6

Glucose Syrup

Glucose Syrup

8029-43-4

Erythritol

Erythritol

149-32-6

Non-dairy creamer

Non-dairy creamer

7758-11-4

Lysine

Lysine

56-87-1

Corn gluten

Corn gluten

66071-96-3

Activated carbon

Activated carbon

64365-11-3

Maltitol

Maltitol

585-88-6

Sorbitol 70%

Sorbitol

50-70-4

Dextrose

Dextrose

50-99-7

Citric Acid

Citric Acid

77-92-9

Other Chemicals

Product name

Chemical name

CAS No.

Calcium chloride 74% 77% 94%

Calcium chloride

10043-52-4

Epichlorohydrin

Epichlorohydrin

106-89-8

Adipic acid

124-04-9

PVA

Poly vinyl alcohol

9002-89-5

Pentaerythritol

Pentaerythritol

115-77-5

Anatase and Rutile Titanium Dioxide

Titanium Dioxide

13463-67-7
...
Looking for ideal Calcium Chloride 74% Manufacturer & supplier ? We have a wide selection at great prices to help you get creative. All the Calcium Chloride Flake are quality guaranteed. We are China Origin Factory of Calcium Chloride Granule. If you have any question, please feel free to contact us.
Product Categories : Paper Making Auxiliary Series > Calcium Chloride