Introduction
Best price Food Grade Citric Acid Monohydrate /Citric Acid Anhydrous
product name:Citric Acid
CAS No.:5949-29-1
Purity: 99% min
Appearance:White Crystal Powder
Citric Acid is mainly used as flavoring agent, preservative and antistaling agent in food and beverage industry. Citric Acid also can be used as antioxidant, plasticizer, detergent in chemical, cosmetics and detergent industries. As a food additive, Citric Acid Anhydrous is an essential food ingredient in our food supply. As a leading Food Additives and food ingredients supplier in China, we can provide you with high quality Citric Acid Anhydrous.
Specifications:
| | |
| --- | --- |
| Item | Standard |
| Description | White or transparent crystals |
| Solubility | Pass test |
| Clarity & Color Solution | Clear |
| Content | 99.5%~101.0% |
| Sulphate | ≤150ppm |
| Oxalate | ≤100ppm |
| Heavy Metal (as Pb) | ≤10ppm |
| Barium | Pass |
| Calcium | ≤200ppm |
| Iron | ≤50ppm |
| Chloride | ≤50ppm |
| Sulphated ash | ≤0.1% |
| Water | 7.5%~9.0% |
| Readily carbonisable substances | Not darker than the standard |
| Lead | ≤1ppm |
| AS | ≤1ppm |
| Mercury | ≤1ppm |
| Aluminium | ≤0.2ppm |
| Bacteriaendotoxic | ≤0.5IU/mg |
Function
At room temperature, citric acid anhydrous powders is a colorless translucent crystals or white granules
or white crystalline powder, odorless, very sour taste, slight deliquescence in moist air. Citric acid anhydrous
powders can exist in the form of the anhydrate or monohydrate.
When heated to 175 ° C,it will decompose to produce carbon dioxide and water, the remaining white crystals.
Citric acid is a strong organic acid,
Application
1. Food industry: mild and refreshing acidity citric acid anhydrous powders is widely used for a variety of
beverages, soft drinks, wine, candy, snacks, biscuits, canned fruit juices, dairy products and other food
products.
2. Chemicals and textiles: use citric acid or salts thereof as builders, can improve the performance of the
washing product, can rapidly precipitate the metal ions, to prevent readhesion of pollutants on the fabric
maintain washed necessary alkaline; dirt and ash dispersion and suspension; improve the performance
of the surfactant.
3. Environmental protection: citric acid - sodium citrate buffer for flue gas desulfurization.
4. Livestock production:citric acid in piglet feed, early weaning, feed utilization increased 5% to 10%,
increase the amount of litter pigs.
5. Cosmetics: Citric acid is a kind of acid, the main role is to accelerate the horny update.
6. Sterilization: citric acid and 80 ° C temperature combined effects kill bacterial spores, and can
effectively kill bacterial spores of the pollution in the hemodialysis machine line.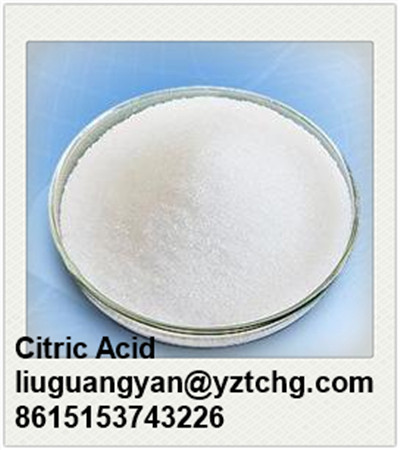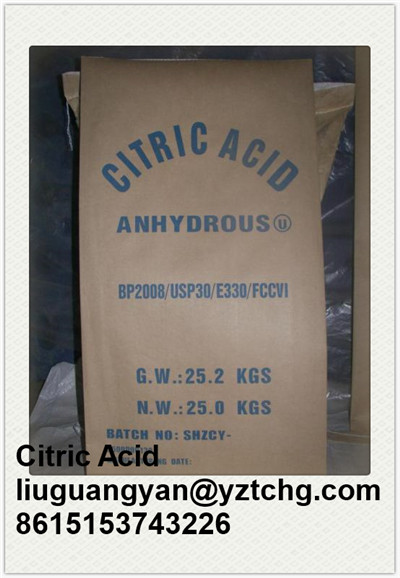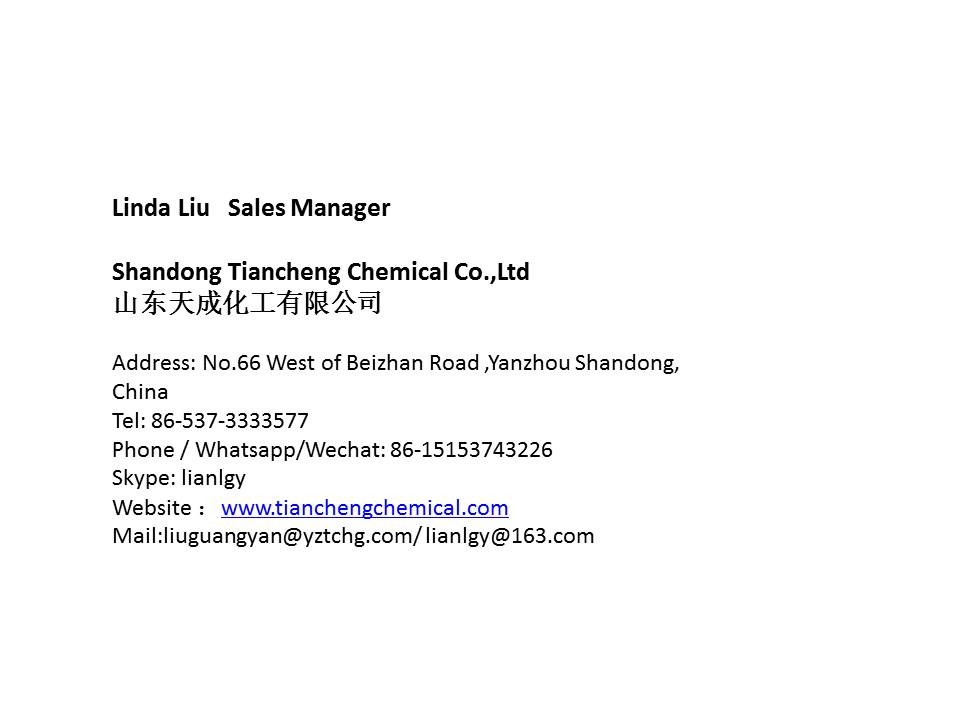 Looking for ideal Citric Acid Anhydrous Manufacturer & supplier ? We have a wide selection at great prices to help you get creative. All the Cheap Price Citric Acid Anhydrous Food Grade are quality guaranteed. We are China Origin Factory of Hot New Products Citric Acid Anhydrous Food Grade. If you have any question, please feel free to contact us.
Product Categories : Food Additives > Citric Acid