Tiancheng is one of the world`s largest manufacturers of Alkyl Ketene Dimer (AKD Wax) with 20 years experiences and the largest and best manufacturer of Cationic Reagent (3-Chloro-2-Hydroxypropyltrimethyl Ammonium Chloride/quat 188/CHPTAC), raw material for producing cationic starch in China. Other featured products:General AKD Emulsifier 25%, Quat 188 69%,Polymer emulsifier 40%, PolyDADMAC 40%,Wet strenght agent 12.5%/25%, Styrene Acrylic Copolymer , Fixing Agent 50%, Poly Aluminium Chloride , Sodium Gluconate Oxidized Starch,ect.
FATTY ALCOHOL DEFOAMING FOR PAPER INDUSTRY:

1,Physical & Chemical Properties:
Appearance white emulsion
Density(20℃, mPa•s) 0.95-1.0
Viscosity(25℃, mPa•s) ≤400
Solid Content 29%-32%
Ion weak anion
PH Value 6.0-8.0
2,Performance & Features:
1.Good defoaming, antifoaming performance and long duration.
2. There is no resistance to the performance of Other Chemicals in the pulp, can remove the bubble in the slurry and white water.Effectively improve the dehydration, improve the paper wet strength, reduce the paper on the pinhole, bubble, reduce the frequency of broken paper, improve production efficiency.
3.Can effectively improve the retention of fine fibers and fillers, reduce the emissions of other paper chemicals and fiber organic load. This product adopts different molecular weight, different structure of polyether compound and into, soluble in water after the formation of emulsion.
4. Can be completely soluble and water, will not damage the amino compounds, silicone oil and chemical composition, does not pollute the forming mesh, felt, improve the fabric of life.
3,Scope of Application:
1.Elimination of the bubble in papermaking wet end.
2.Applies to newsprint, cultural paper and packaging paper production process.
3.Suitable for the use of a variety of special paper production process.
4. The ability to disperse in water is good, especially for medium and acid process.
4,Application Methods:
1.Strong foam, foam suppression performance, add a little to be effective, suggested usage 50-1000 g/MT, for the amount of added can be adjusted according to the actual situation.
2. Can add in the molding net water receiving disc, under the net, white pit pool or machine outside the white tank at any position. The optimum adding amount and adding point can be determined according to the type of paper, paper additives type, production speed, gas content and so on.
3. Can be directly added to the solution or mixed after dilution.
4. This product is soluble in cold water, warm water, easy mixing emulsifying. When diluted, it is suggested that the mass ratio of and water is 1:3, and too much water will affect the storage and use of the product.
5. To avoid the interference of other chemicals in use process, if there is any surplus after using a timely cover packing.
5,Packing & Storage:
The product will be packed in 200kg or 1000kg plastic tanks .
Storage conditions: shad, cool, dry and above 0℃. Shelf life: 6 months.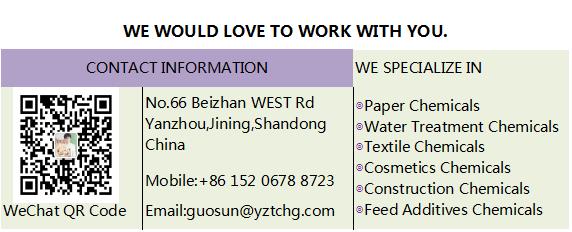 Product Categories : Paper Making Auxiliary Series > Defoamer (defoaming Agent)